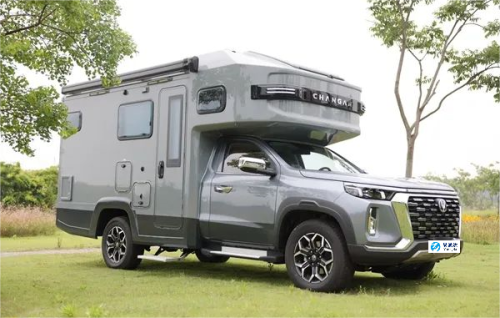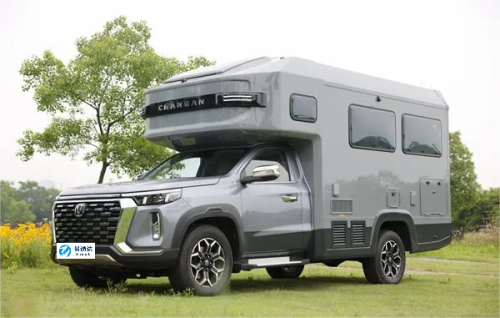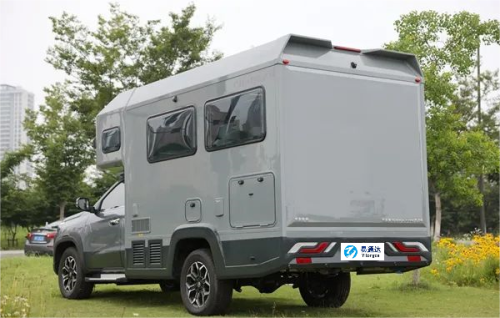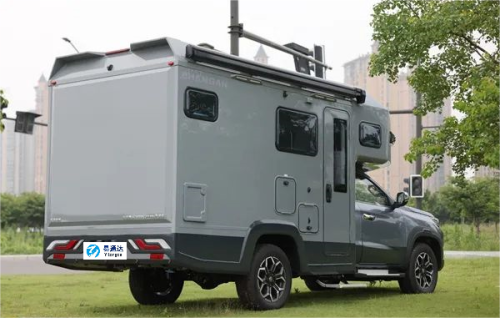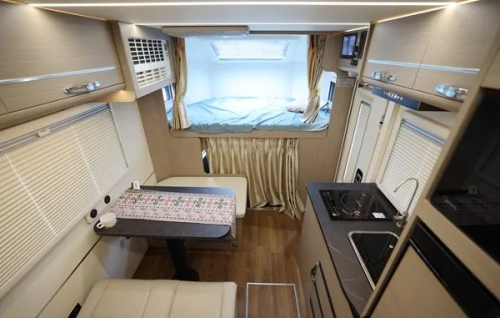 Changan Fengjing · Blue Whale Explorer RV New motor home
Model

Chang'an Fengjing · Blue Whale Explorer RV
Item specifics
colour

Bright Moon White
colour

Star Moon Grey
colour

Log color
Description
Chang'an Fengjing · Blue Whale Explorer RV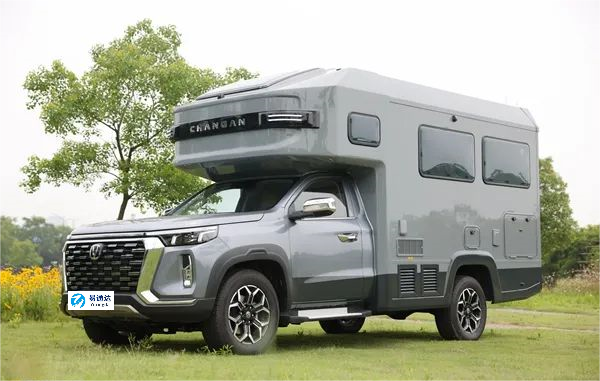 About the product
The Blue Whale Land Rover has been released with a 2.0T Blue Whale gasoline engine, 233 horsepower, 390 Nm, which is more powerful than diesel engines of the same class and only consumes 10-11 fuel. At present, the two layouts, the longitudinal bed plate and the card seat plate, correspond to 4 and 6 seats respectively. There are several advantages: 1. The brand of Chang'an original RV, with its chassis and upper body carefully crafted by Chang'an Automobile, is not a modification factory. 2. Configuration: Maximum 300L of purified water+10 kWh of electricity+48V power supply+5000 watt inverter, 5-layer full aluminum panel box, standard with 150 refrigerators, diesel stoves, and washing machines, with the highest configuration for RVs of the same class. 3. The longest after-sales service time: 3 years for top installation and 4 years for chassis. 4. The Blue Whale chassis provides a quiet and comfortable driving experience, and the cabin configuration is currently the most luxurious among its peers.
Length (mm)

5995

emission standard

VI B

Width (mm)

2170

engine type

D20T GDI Double Vortex Tube Supercharged Direct Injection Engine

Height (mm)

2880

Displacement (L)

2.0T

Curb weight (kg)

3087

fuel

gasoline

Seating capacity

6 people

Fuel tank volume (L)

80

Bedding

Forehead bed+card seat bed

Maximum engine power (kW/rpm)

171/5000-5500

Wheelbase (mm)

3430mm

Maximum engine torque (N · m/rpm)

390/1900-3300

Track width front/rear (mm)

1610/1710

Transmission

ZF 8AT

Minimum ground clearance (mm)

215

Four wheel drive system

Front timely four-wheel drive (2H/ATUO/4L)

Approach angle/departure angle (°)

28°/17°

Differential lock

Central differential lock+rear axle differential lock

RV body structure

Integrated cage shaped high torsional body

Driving area air conditioning

Automatic air conditioning+rear air outlet

Chassis system configuration

Intelligent driving and safety configuration

Dedicated chassis

Chang'an Automobile RV Special Chassis

●

●

Chassis structure

Non load bearing type

●

●

suspension system

Dual wishbone independent suspension+fully gradient steel plate spring non independent suspension

●

●

Power assisted steering

Electronic Power Assisted Steering (EPS)+Multi mode steering (lightweight, comfortable, and sporty)

●

●

Driving mode

Economy, Standards, Sports, Snow, Off Road (five in total)

●

●

Towing hook status

Front towing hook

●

●

braking system

Four wheel disc brake

●

●

Parking brake

EPB electronic handbrake

●

●

Tire specifications

265/60R18 tires (HT)

●

●

Wheel hub material

Aluminum alloy wheel hub

●

●

Light combination

LED headlights+LED daytime running lights+LED front position lights

●

●

Automatic headlights

Automatic headlights+electrically adjustable headlight angle+delayed headlight off function

●

●

Boneless wiper

Boneless wiper+automatic function

●

●

Exterior rearview mirror

Electric adjustment+defrosting heating function

●

●

Driver's seat

6-way manual adjustable (up, down, front, back, and backrest)

●

●

Passenger seat

4-way manual adjustable (front, rear, and backrest)

●

●

Airbag

Dual airbags for both driver and passenger seats

●

●

Vehicle anti-theft and rescue

Road rescue

●

●

eSP

Anti theft monitoring and tracking

●

●

ABS+EBD

●

●

Body Electronic Stability System (ESC/ESP)

●

●

Traction Control (TCS)

●

●

Brake Assist (BA)

●

●

Hill Assist (HHC)

●

●

Hill Descent Control (HDC)

●

●

Emergency brake warning system

●

●

ESC switch

●

●

Driving safety system

Engine electronic anti-theft

●

●

Direct Tire Pressure Monitoring System (TPMS)

●

●

Cruise control

●

●

lane departure warning system

●

●

Keyless entry (front row)&one click start

●

●

Smart remote control key (remote window control, unlocking, locking)

●

●

Speed sensitive automatic door locking (left and right cab doors)

●

●

Driving safety system

Collision automatic fuel cut-off function

●

●

Multifunctional steering wheel: sound+music+driving computer information switching+cruise control+Bluetooth phone+voice control

●

●

Intelligent health air conditioning control system in the driver's cab: single zone automatic air conditioning+dust filter+forest purification system+automatic defogging

●

●

12.3-inch color display screen (radio+USB+Bluetooth)

●

●

Dual screen linkage: cockpit 7.5 inch color LCD screen+12.3 inch high-definition touch entertainment screen (center console screen)

●

●

Driving safety system

Smoke alarm+carbon monoxide alarm

●

●

Driving safety system

Front 12V power supply

●

●

USB interface

●

●

ETC interface

●

●

Full time 4G online

●

●

Bi-directional WiFi (in car WiFi hotspot+WiFi connection channel)

●

●

Driving safety system

Online voice: speech recognition+sound source localization+sound reproduction

●

●

Online navigation: Gaode (GPS+Beidou)

●

●

540 panoramic visual driving assistance

●

●

Rear reversing radar

●

●

Driving streaming rearview mirror (with driving record)

●

●
This latest Chang'an Fengjing Blue Whale Lantuo Pickup RV adopts a more fashionable and avant-garde original chassis in terms of chassis, and the entire body, in terms of strength and craftsmanship, can have a high level. The configuration of four-wheel drive system and central differential lock also lays the foundation for the off-road characteristics of the entire vehicle. The upper garment adopts a spacious and comfortable spatial layout, with comprehensive facilities that can meet the needs of four or five people for self driving accommodation. In terms of water and electricity configuration, 48V100ah lithium battery, 400w solar panel, and 3kw integrated charging and inverter are standard for power, while also supporting the optional installation of large capacity batteries. The standard configuration of the water tank is a 160L clean water tank and a 50L gray water tank, which basically meets the needs of short-term self driving and living.