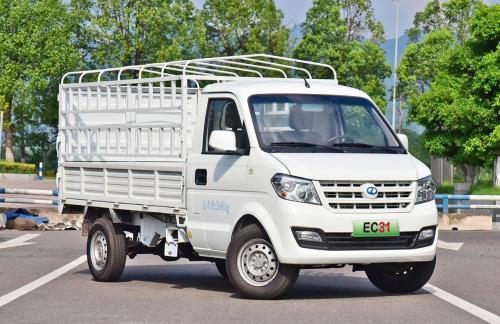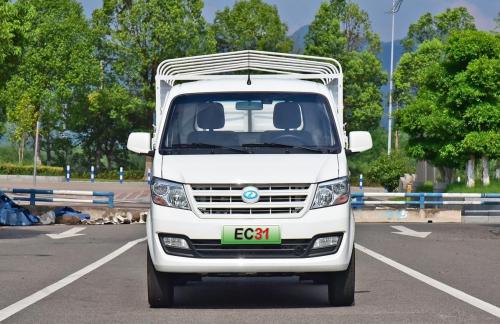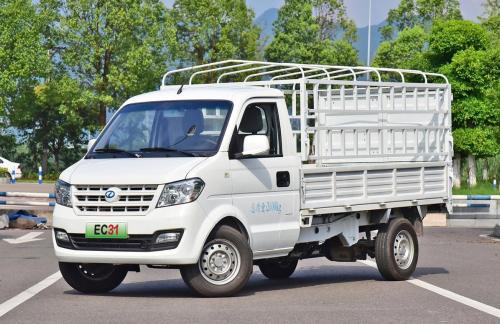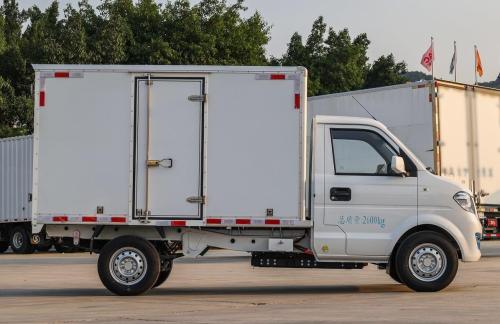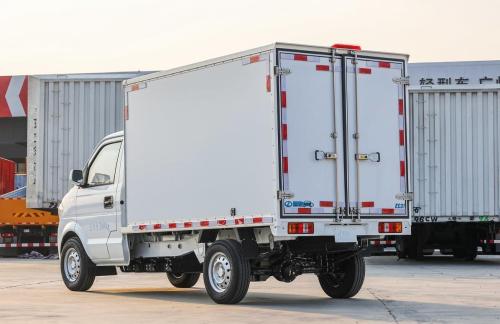 Ruichi EC31 electric light truck flatbed truck
Model

Ruichi EC31 electric light truck
Item specifics
Maximum speed

80km/h
vehicle weight(kg)

1410kg
cabin dimension(L*W*H)mm

2770*1565*1550
max.loading(kg)

1060
total motor power(KW)

60
Description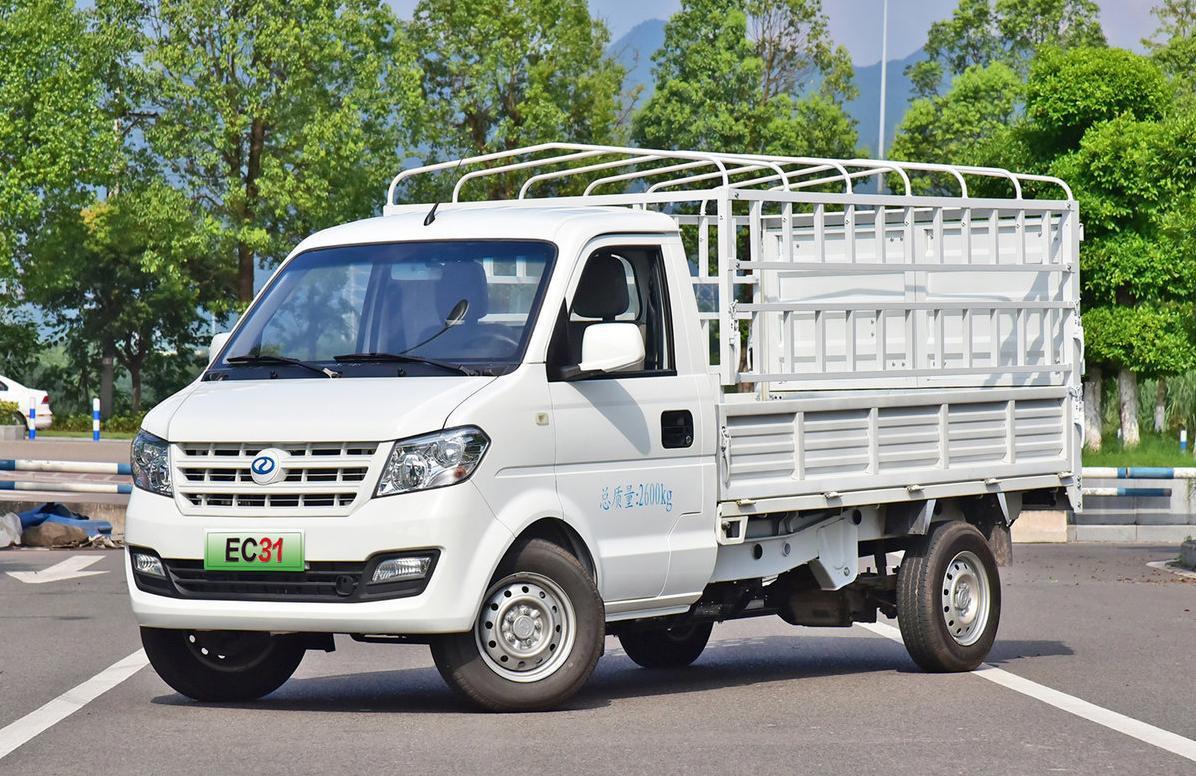 Ruichi EC31
Advantages
Introduction
Ruichi EC31, a micro card suitable for urban transportation
From the appearance, the design of this car tends to be simple and light, and a lot of curve designs are used to make the whole car look more light. Blue and white colors are used as a whole, which makes people look comfortable. Blue also highlights the attributes of new energy.
This car has a large inverted trapezoidal air intake grille on the front face, which can effectively enhance the air intake effect and reduce the wind resistance.
● Simplicity style is more pragmatic
The headlights of this car adopt a split design, and the front fog lights and headlight height adjustment function are equipped as standard in the whole system, which allows the car to get a better view when driving at night.
It can be seen from the cab that the design concept of this car is pragmatic. The main body of the cab adopts a dirt resistant black and gray color, and the air conditioning control panel with silver embellishment makes it look like you can't buy depression. The central console is very simple but well planned. All functional parts are arranged orderly on it. The driver can lift his hand to complete the operation.
This car adopts a rotary gear shifting scheme, which is more convenient to operate than the gear lever. In addition, the whole series is equipped with an electric power steering system as standard, making it more convenient for this micro card to turn in crowded and narrow roads.
● Small size and large capacity
The urban transport vehicle pays more attention to volume and flexibility. This real car is a truck version. The length, width and height of the car body are respectively 4730/1670/1880mm, and the wheelbase is only 3050mm. Such a compact figure will make the Ruichi EC31 more flexible when entering and leaving the basement and crossing the street. However, the small size does not affect its cargo capacity. Most of the goods transported by urban distribution are light goods, so the requirements for the other party's volume should be greater than the load. The internal dimensions of this truck's cargo box are 2770/1565/1550mm, which is sufficient for urban distribution transportation.
● The tram with a comprehensive mileage of 300 km also has a long endurance
Trams have always been criticized for their slow charging and short endurance, but this Ruichi EC31 has a good performance in terms of performance. It carries lithium iron phosphate battery with a battery capacity of 38.7 kWh. The endurance mileage released by the Ministry of Industry and Information Technology can reach 275 km. If the mileage requirement is high, you can also choose the 300KM version. flatbed truck
version

Van (41.93kwh)

flatbed(41.93kwh)

Stake-van(41.93kwh)

refrigerated (38.7kwh)

L*W*H(mm)

4750*1670*2400

4750*1670*2400

4750*1670*2400

4750*1670*2400

body structure

4doors 2seats

4doors 2seats

4doors 2seats

4doors 2seats

max.speed(km/h)

80

80

80

80

3050

3050

3050

3050

Minimum ground clearance(mm)

190

190

190

190

vehicle weight(kg)

1410

1410

1410

1410

doors(pcs)

2

2

2

2

seats(pcs)

2

2

2

2

cabin dimension(L*W*H)mm

2770*1565*1550

2900*1540*350

2900*1540*350

2660*1450*1430

max.loading(kg)

1060

1150

950

870

electro-motor

motor type

permanent magnet sychronous motor

permanent magnet sychronous motor

permanent magnet sychronous motor

permanent magnet sychronous motor

total motor power(KW)

60

60

60

60

Total motor torque(Nm/rpm)

200

200

200

200

number of drive motor

single motor

single motor

single motor

single motor

battery type

lithium ion battery

lithium ion battery

lithium ion battery

lithium ion battery

Endurance mileage (km)

290

290

290

290

battery capacity(kwh)

41.93

41.93

41.93

38.7

charging time(hr)

fast charge :2-3h

normal charge :10-12h

fast charge :2-3h

normal charge :10-12h

fast charge :2-3h

normal charge :10-12h

fast charge :2-3h

normal charge :10-12h

gear box

speed class

3-speed

3-speed

3-speed

3-speed

type of gear box

automatic

automatic

automatic

automatic

chassis steering

drive mode

Rear-engine Rear-drive

Rear-engine Rear-drive

Rear-engine Rear-drive

Rear-engine Rear-drive

Front suspension type

macpherson independent suspension

macpherson independent suspension

macpherson independent suspension

macpherson independent suspension

Rear suspension type

Leaf spring dependent suspension

Leaf spring dependent suspension

Leaf spring dependent suspension

Leaf spring dependent suspension

auxiliary type

electric power steering

electric power steering

electric power steering

electric power steering

vehicle structure

unitary construction body

unitary construction body

unitary construction body

unitary construction body