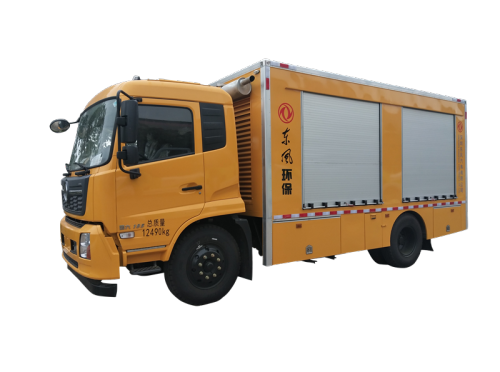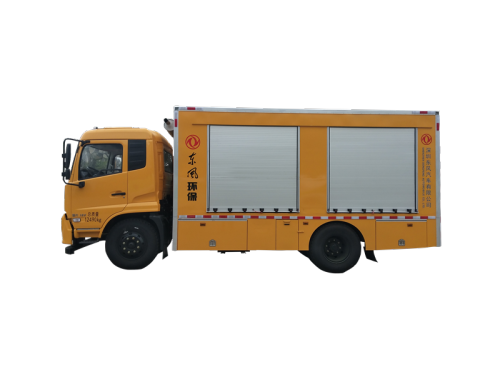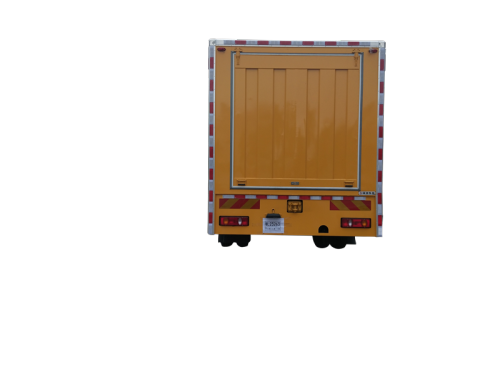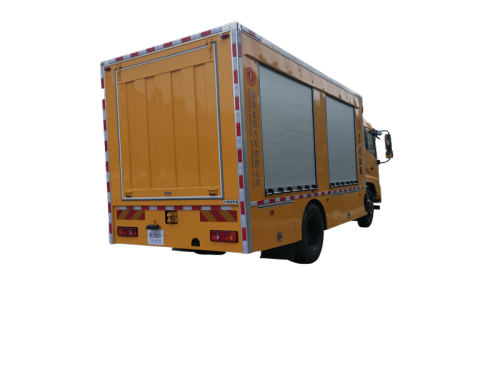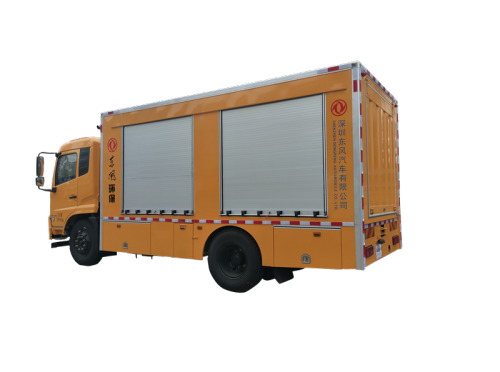 Large flow drainage emergency vehicle EQ5100TPSS6 (fuel vehicle) Urban emergency vehicles
Model

Large flow drainage emergency vehicle EQ5100TPSS6
Item specifics
Chassis Model

Dongfeng Tianjin DFH1120B4
Total mass (kg)

10495/9900
Discharge (m³/h)

1000~1200
Description
Large flow drainage emergency vehicle EQ5100TPSS6 (fuel vehicle)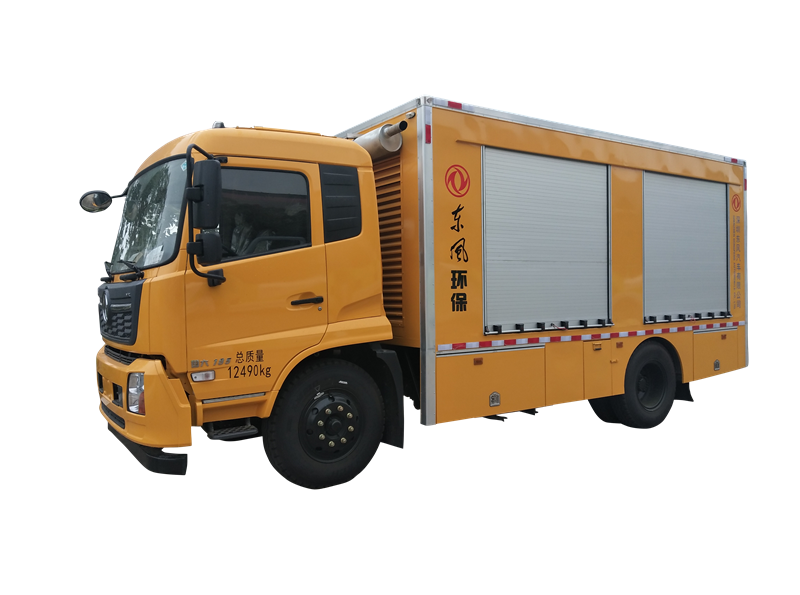 DongFeng Large flow drainage emergency vehicle EQ5100TPSS6 (fuel vehicle)
Advantages Introduction
Shenzhen Dongfeng large flow drainage emergency vehicle EQ5100TPSS6 (waterlogging drainage vehicle), based on the chassis of Dongfeng Tianjin truck, is refitted with portable submersible pump, control system, drainage pipeline, box and other components.
Large flow drainage engineering rescue vehicles are mainly used for urban flood control and drainage, agricultural drought relief, municipal engineering and emergency drainage. The control system adopts intelligent control and has the function of automatic obstacle protection. It can work in the open air all day long. It has the characteristics of stable and reliable overall performance, light and practical integrated operation, fast response, high drainage efficiency, convenient combination of functions, and wide use.
The product has the characteristics of large flow, high suction head, fast water filling time, strong reliability, strong mobility, etc. It is mainly applicable to emergency drainage of urban and rural roads, tunnels and various complex working conditions, especially low liquid level drainage and long-distance drainage.  
2. The pump body is equipped with handles for easy handling. The pump body is made of high-strength light aluminum alloy, and the impeller is made of wear-resistant and corrosion-resistant high-quality stainless steel. It is integrally formed, and the diving depth is up to 20 meters; The water pump is equipped with stainless steel wire filter screen, which can effectively prevent garbage from blocking and damaging the water pump.
3. Each water pump is equipped with a 20m submersible cable. The cable and the control cabinet are connected by a quick plug with a protection grade of IP67, which is easy to operate and safe to use. The single pump is equipped with polyamine high strength floating ring, which is integrally formed to meet the buoyancy requirements of the water pump during operation, and the bayonet ring is used to connect the flexible sling; The water pump can work normally using the generator set or mains power.
4. The external steel of the car body is high-quality cold-rolled steel plate, lined with high-quality cold-rolled steel plate bending framework, equipped with a number of high-end aluminum alloy shutter doors, with advanced technology and firm strength. The compartment is a fully sealed structure, which meets the requirements for transportation, rain protection, corrosion prevention, fire prevention and rust prevention. Multiple lighting lamps are distributed on the inner roof of the compartment to provide illumination for night work or maintenance. The air inlet and exhaust of the generator unit shall be silenced, and the muffler shall be subject to noise reduction.
Zhuzhou Yitongda acts as an agent to export high-quality used car products in China Large flow drainage emergency vehicle EQ5100TPSS6 (fuel vehicle) Urban emergency vehicles

The pertormance parameters
| | |
| --- | --- |
| Chassis Model | Dongfeng Tianjin DFH1120B4 |
| Total mass (kg) | 10495/9900 |
| Discharge (m³/h) | 1000~1200 |
| Overall dimensions (length × wide × Height) (mm) | 7480×2490×3380 |
| Wheel base (m ³) | 3950 |
| Maximum suction head (m) | 8 |
| Diameter of passing particles (mm) | 60 |
| Maximum working pressure (bar) | 3.5 |